'It's Leni plotting Duterte's ouster'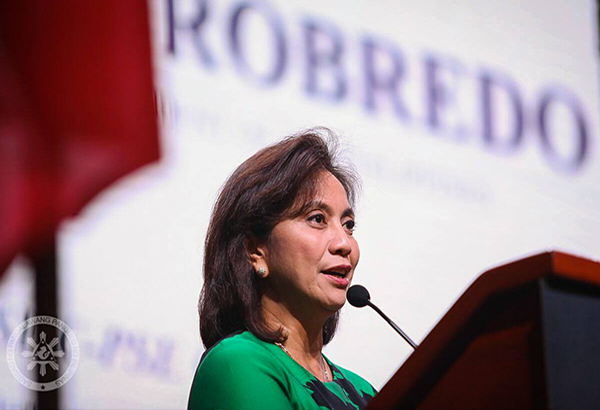 MANILA, Philippines - It's Vice President Leni Robredo who might be plotting to oust President Duterte and not the other way around, Speaker Pantaleon Alvarez said yesterday.
"Bakit naman sa dami ng problema ng bansa natin pag-aabalahan pa iyan ng Presidente (The nation has so many problems already, so why would the President bother with that)?" the Davao del Norte congressman told reporters, referring to an alleged plot to unseat Robredo.
Alvarez, a stalwart of the ruling PDP-Laban, said the Chief Executive does not stand to benefit from Robredo's removal, and that she in fact would stand to benefit more from a Duterte exit as she is his constitutional successor if his term ends prematurely.
"The drug list was so thick. I got my copy from Malacañang. That alone is a tough job to address and why would you come up with such plot or whatever?" he said in Filipino.
But he lauded Robredo for leaving the official family early enough at the slightest hint of discord, unlike – he said – the other appointees of the previous administration who have stubbornly refused to step down.
Alvarez also stressed Robredo should have nothing to worry about if she really believes she beat Ferdinand Marcos Jr. in the vice presidential race.
For former president and now Deputy Speaker Gloria Macapagal-Arroyo, Robredo's decision to resign from the Cabinet was bound to happen.
"It was inevitable because of the divergence in so many important issues," Arroyo said.
"I see it from both the perspective of President Duterte and Vice President Robredo. And also from my own personal experience," she explained, noting that it was normal for any Chief Executive to let a member of his Cabinet go once they have differences in opinion.
Arroyo recalled she bolted former president Joseph Estrada's Cabinet as social welfare secretary in late 2000, when there was mounting clamor for her to leave the official family.
Estrada also did to her what Duterte did to Robredo. "I respected the instruction not to attend. It can be done," she said. "They would probably take up something political and since I come from the opposite side of fence, they probably don't want me to become privy."
Arroyo likewise downplayed criticisms the directive from Duterte for Robredo should not have been delivered just through a text message.
"It's been done before through that (text message). It was a senior official, a chairman of the board," Arroyo said. She declined to name the appointee.
"When I resigned from the Estrada Cabinet, there was already a big clamor for me to resign, whereas right now, President Duterte is very, very popular. So the resignation does not come from a widespread clamor. It comes from policy difference," she stressed.
Arroyo's husband, former first gentleman Mike Arroyo, reminded Robredo that all members of the Cabinet serve at the pleasure of the appointing authority.
"Madame Leni, lest you forget. All Cabinet members serve at the pleasure of the President. You are not an exception. The President can fire anyone for any reason or no reason at all," Mr. Arroyo said.
"Actually, you should thank the President for keeping you in the Cabinet for five months. No President would have the patience of President Digong to keep a subordinate who attacks him publicly while in the Cabinet," Mr. Arroyo added.
Marcos' camp said Robredo's quitting the Cabinet was long overdue.
Vic Rodriguez, legal counsel of Marcos, said whether she had resigned or been fired is none of Marcos' business.
"However, we take strong exception to her statement on not letting the vice presidency to be 'stolen' from her and the will of the people to be 'thwarted," he said in a statement.
"Her statement on the vice presidency is yet another affront to the Supreme Court as she is undermining the integrity and independence of Presidential Electoral Tribunal by casting doubt this early on, on all its future actions and processes," he said.
Department of Public Works and Highways (DPWH) Secretary Mark Villar, for his part, said he could not recall anything out of the ordinary between President Duterte and Robredo during Cabinet meetings.
But he said it's the President's prerogative to appoint or remove officials.
"We serve at the discretion of the President, that is his prerogative. We all serve at the pleasure of the President, so we respect that… We all support the President," he added.
Fr. Jerome Secillano said Robredo did the right thing if she felt President Duterte did not want her to be part of his Cabinet.
"If she feels unwanted in the Cabinet, resignation is the best thing she can do," said Fr. Secillano. – With Perseus Echeminada, Evelyn Macairan
source: